Come meet us at an upcoming event!

Recruitment Calendar Summer and Fall 2023
| Location | Date | Type |
| --- | --- | --- |
| Drexel | June 14th, 2023 | OCR |
| Drexel | June 15th, 2023 | OCR |
| Georgia Tech | July 20th, 2023 | Office Visit |
| Drexel | August 9th, 2023 | OCR |
| Drexel | August 10th, 2023 | OCR |
| Drexel | August 11th, 2023 | OCR |
| Georgia Tech | August 25th, 2023 | Trader Panel |
| UC-Berkley | September 12th, 2023 | Career Fair |
| UC-Berkley | September 13th, 2023 | OCR |
| Stanford | September 14th, 2023 | OCR |
| UMich | September 27th, 2023 | Career Fair |
| UMich | September 28th, 2023 | Athletic Career Fair |
| UMich | September 28th, 2023 | OCR |
| UC-Berkely | October 3rd, 2023 | Career Fair |
| UC San Diego | October 5th, 2023 | Career Fair |
| UMich | October 6th, 2023 | Career Fair |
| NYU | October 10th, 2023 | OCR |
| Baruch | October 11th, 2023 | OCR |
| Auburn University | October 12th, 2023 | Office Visit |
| Northwestern | October 12th, 2023 | Mock Interviews |
| Northwestern | October 31st, 2023 | OCR |
| UChicago | November 1st, 2023 | OCR |
| Stanford | November 2nd, 2023 | Career Fair |
| Drexel | December 5th, 2023 | OCR |
| Drexel | December 6th, 2023 | OCR |
| Drexel | December 7th, 2023 | OCR |
Please note, the schedule is subject to change
Below is a list of the current job openings with our company. Click on the job title to learn more about the opening.
Current Job Listings
---

Our Benefits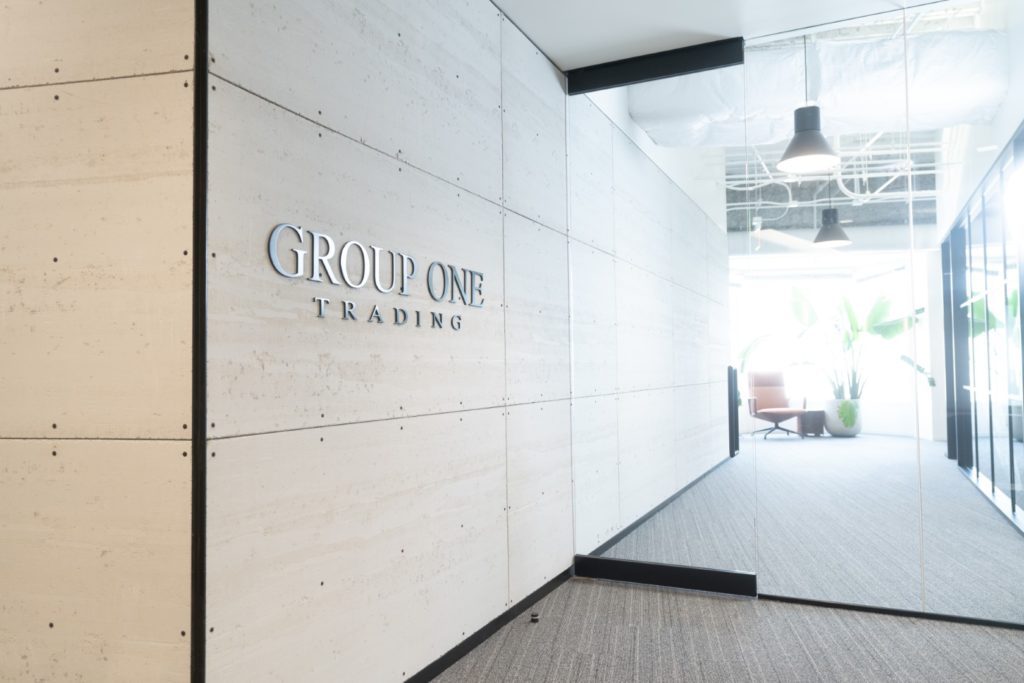 Health Coverage
Group One Trading offers team members health coverage beginning the first of the month following hire date. If elected, we cover a portion of the monthly premiums for medical, dental and vision insurance, while the team member pays the remainder with pre-tax dollars.
Medical coverage provided by Blue Cross Blue Shield with a choice of three (3) plans which includes a no-deductible plan!
Dental coverage provided by MetLife
Vision coverage provided by MetLife
Life Insurance
Group One offers team members life insurance and AD&D provided by MetLife, with the option to purchase additional coverage. If additional coverage is selected, team members can also purchase coverage for their dependents.
Long-Term Disability
Group One offers company-paid long-term disability provided by MetLife for all eligible full-time team members for all approved disability situations.
Time Off
We offer a highly flexible time off policy which includes a generous allotment of vacation, personal, and sick leave. Our company-paid holidays are based on the NYSE exchange calendar
Parental Leave
We offer thirty (30) days of paid leave for new parents!
401(K) Retirement
Group One's 401(k) retirement program includes a traditional pre-tax option and Roth, after-tax option. We also offer a generous employer contribution program.